JIN BEI Group in Sihanoukville
Landwell Key Management Systems Revolutionize Key Tracking and Management for Casinos
JIN BEI Group, a prominent player in Cambodia's leisure and entertainment industry, boasting a substantial investment exceeding $300 million, has established itself as a fusion of the service and gaming sectors. Among its accomplishments are internationally acclaimed hotels like the "JIN BEI Noble Hotel," offering unparalleled leisure and entertainment variety, and the "JIN BEI Beaux Arts Hotel," featuring cutting-edge electronic leisure venues. Recognized for its contributions to Cambodia's economy and its commitment to social responsibility, JIN BEI Group stands as a noteworthy enterprise in the region.
Challenge and Requirement
Within the context of four office locations in Sihanoukville, the need to manage thousands of keys emerged as a significant challenge for William. The conventional approach of manual, handwritten key registration proved inadequate in tracking key usage or identifying the individuals responsible for specific keys. The absence of a streamlined system hindered efficient key audits, a concern exacerbated by missing keys. William urgently sought a solution that could not only address key tracking issues but also deliver comprehensive tracking reports to the administrator within stipulated budget and time constraints. Given the scale and complexity of JIN BEI Group's operations, an effective method was imperative to manage the multitude of keys spanning multiple floors.
To cater to William's specific requirements, LANDWELL recommended the JIN BEI Group's utilization of the i-Keybox series—an advanced key management system. The i-Keybox series offers a robust solution designed to meticulously record key transactions, encompassing details such as the individual who retrieved or returned the key, the time and location of the transaction, and comprehensive reports outlining usage patterns.
For the seamless retrieval of designated keys, each user is furnished with a personalized authorization code, exclusively accessible to administrators for background assignment. The implementation of distinct passcodes substantially curbs the risk of key misplacement or loss. Furthermore, the potential threat posed by unauthorized individuals gaining access to the keys is completely eradicated.
An additional distinctive offering from LANDWELL is its user-friendly Android software system, which provides real-time updates on key status and historical usage. These real-time logging reports seamlessly synchronize with a computer backend, enabling tracking based on variables such as date, time, authorization code, or biometric access data. Crafted from durable sheet metal, this system effectively overcomes the challenges that were historically associated with conventional key storage methods, such as perplexing key tags and unreliable handwritten records.
The LANDWELL intelligent key management system stands out due to its ease of installation, robustness, and security. The optional integration of biometric fingerprint recognition technology bolsters its security features. This system has already been successful in implementation in various hotel-casinos in Cambodia. The Willim installation consists of 25 LANDWELL key control systems, housing over 300 accounts and managing 1000 keys, spread across Phases 1 and 2. William now enjoys comprehensive key access and the ability to monitor the usage patterns of authorized personnel in real-time. Each key user is allocated specific privileges, confined to keys essential for their designated roles.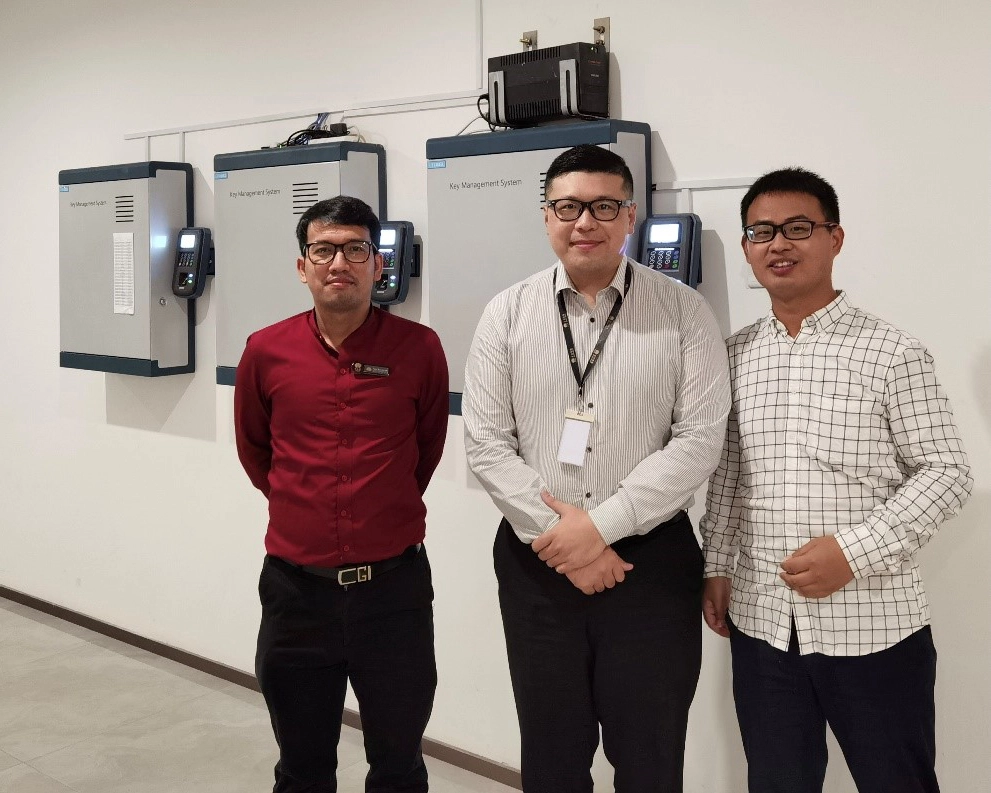 The innovative LANDWELL intelligent key management system has significantly diminished the incidence of unauthorized key possession. It has effectively mitigated the risk of losing valuable concealed assets that are secured by these keys. This achievement is attributed to LANDWELL's i-keybox key management software, which promptly alerts designated administrators about potential security breaches. These alerts encompass instances like keys not being returned on time, forced entry through doors, and misplacement of keys.
Notably, the robust reporting feature of LANDWELL's i-keybox system empowers administrators to effortlessly generate comprehensive audit trails with just a simple action. This streamlined process not only conserves their precious time but also optimizes resource utilization.
Reflecting on the benefits, the head of JIN BEI Group remarked, "LANDWELL's intelligent key management system eliminates the necessity for round-the-clock staffing. Particularly, the integration of multiple i-keybox systems enables centralized key access control via a single computer. This convenience is truly remarkable!"